The NGPod®: A new pH test to determine nasogastric feeding tube placement
The NGPod handheld devices overcomes many of the risks associated with existing Nasogastric placement confirmation methods.
No aspirate required
No interpretation. Get a clear "Yes/No" answer.
Rapid result [c.15 seconds]
Reduce delays to patients treatment, hydration and nutrition
More cost-effective than using aspirate & pH strips first line

NGPOD® Handheld Device
MPC: NGPOD-01
NHSSC Code: FWM4155
DESCRIPTION
The NGPOD®-01 should be used with the NGPOD® Sensor-01. When used together it will provide the clinician with a simple YES/NO result for indicating placement of a Nasogastric (NG) tube.
As a result, the NGPOD® system removes the need to aspirate gastric contents from the patient, reduces clinical interpretation risk by providing a safe bedside test which gives the user an unambiguous yes or no result. It also reduces the need for unnecessary X-rays to confirm placement and offers patient safety, clinician and cost-efficiency benefits.
FEATURES
Handheld & Portable
Patented Optical Sub-Assembly (OSA)
c.4,000 Test Lifespan
LED Indicator Lights
Lightweight and Ergonomically designed
ISO 13485 Compliant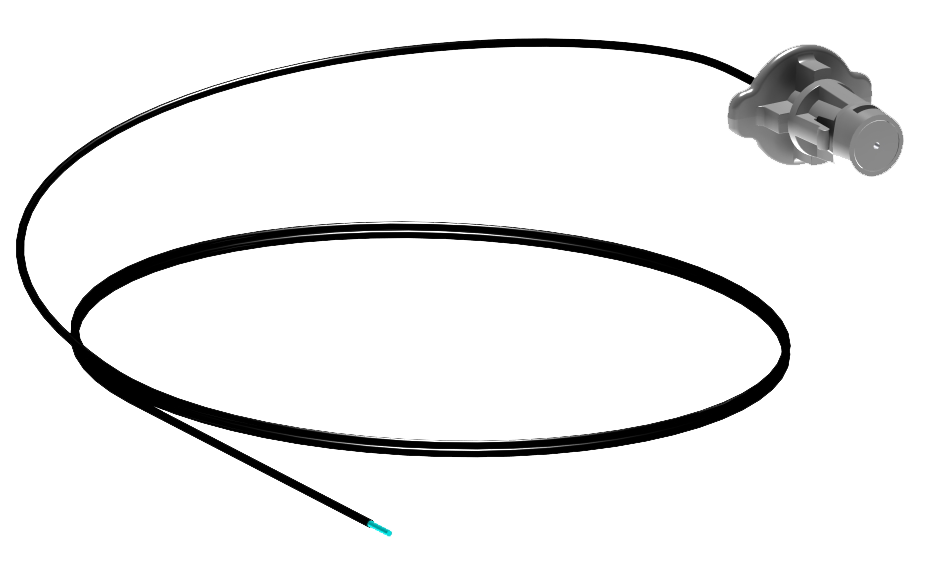 MPC: NGPOD Sensor 01-092
NHSSC Code: FWM4157
DESCRIPTION
Using a bespoke fibre-optic, we have developed a patented Fibre-Optic Sensor which we manufacture in the UK.
When used with the NGPOD®-01, the fibre-optic transmits light from the Pod, detecting a response from the environment at the tip of the sensor (which sits inside the distal end of the nasogastric tube once inserted).
The device provides a result in c.15 seconds.
The sensor is single use and must be disposed after each patient use.
FEATURES
Fibre-optic technology
Sensor tip coated in pH sensitive compound
Single use + disposable
Class I Sterile
ISO 13485 Compliant
OTHER INFORMATION
Length: 92cm
Compatible with commonly used Nasogastric (NG) tubes 6Fr and above.
We are committed to maintaining a Quality Management System, achieving ISO:13485 accreditation in March 2019.